Renew your tabs online! Click the license plate! (see instructions below)
Renew your Boat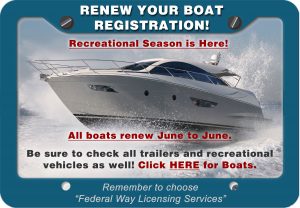 ---
Thank you for choosing to renew your boat online. We are directing you the Washington State tab renewal page. Follow the prompts and remember to get your tabs from Federal Way Licensing Services!
Please follow the steps below: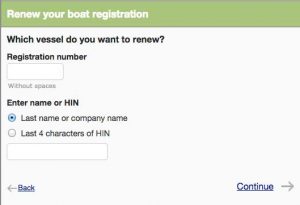 1. Follow the prompts on the website until you are asked: "Which office do you want to get your tabs from?"
2. Click "Change start location," and then enter the registration number.
3. Then click "Find Offices."
4. Choose "Federal Way Licensing Services" as the location where you'd like to pick up your registration!
---
Purchased a new or used Vehicle?
All vehicles that will be used on public roads within the State of Washington must be licensed. If you purchase your car, truck, camper, motor home or other vehicle from a Washington dealer, the dealer should transfer the title for you.
If you purchase your vehicle from a private party, you will need to transfer the title yourself within 15 days.
What will I need?
The title properly released by all registered and or legal owner(s)
Federal odometer statement on vehicles less than 10 years old
A current emission test that is no more than 1 year old may be required
Certain specialty cases may require additional documents
Washington Driver's License
Cash, check or money order
We accept most credit & debits cards with an additional fee
PLEASE NOTE: Washington-titled vehicles must be registered within fifteen (15) days after purchase date to avoid penalty fees. A $50 penalty is charged on the 16th day with an additional $2.00 charge each day thereafter until a maximum amount of $125 penalty is reached. After 45 days of not transferring, it's considered a misdemeanor.
What do I need to renew my tabs?
We will need your vehicle plate number or VIN number to access your vehicle account. It would be helpful if you have your Vehicle Renewal Notice on hand.
If you are not the registered owner, then you will need a note of authorization from the registered owner.
Photo ID
Check your renewal notice carefully: do you need emissions test?
If your vehicle is between 5 years through 25 years old you will need an emissions test every two years for tab renewal.
When doing a title transfer, a vehicle 1991 – 2008 will need a current emissions test that has been taken within the last calendar year.
Federal Way Licensing Services will soon be offering appointments
for your title transfers. Check back often for more details.
For our office to preview your paperwork, please fax documents to (253) 874-1168, or scan and email to info@fwtabs.com.